285 talented female players across the European continent have attended this year's EHF Respect Your Talent Summer Tour, developed by the European Handball Federation and TWIN.
Elite handball is dynamically developing. This counts especially for women's handball, see this year's EHF FINAL4 in Budapest which has broken the world record for spectator attendance at women's handball matches. A growing game equals growing demands for players, not only on, but also outside of the court.
Respect Your Talent, co-created by the EHF and TWIN in 2019, aims to support talented female and male players across Europe to prepare for these (current and future) demands of elite handball. In the programme's various formats, youngsters can learn about essential topics such as media, sports law, mental fitness, dual career, anti-doping, or nutrition. Some of the world's greatest players act as their inspiring instructors.
"I did not have this chance (…) when I was young and I missed this, to be honest. It is important that from this moment on, the players will learn something about the things they have to do off the court, in my opinion, it is even more important than what they do on the court."

Jovanka Radicevic
Respect Your Talent Ambassador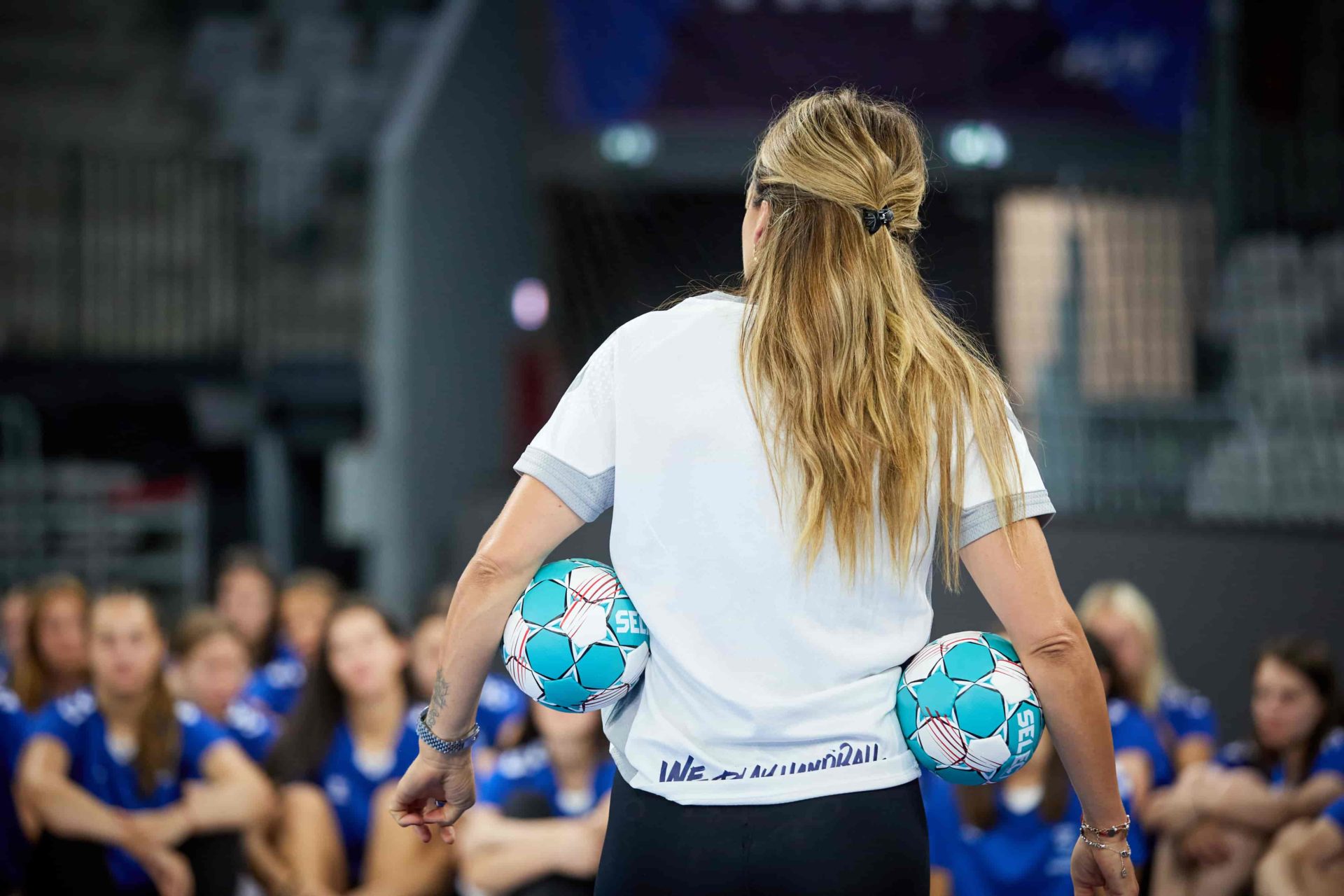 Across Europe
It has been a chance for the top young players from across Europe to pick the brains of those players whose footsteps they try follow in. Running in conjunction with the EHF Younger Age Category (YAC) competitions, the so-called "Player of the Match Events" have seen the Ambassadors Siraba Dembélé Pavlović, Carmen Martin, Béatrice Edwige, Jovanka Radicevic, Anja Althaus, and Andrea Lekic spreading their message across the continent. In total, almost 300 talented players attended their workshops at six different European locations.
"I think it is a great programme (…) in order to help players develop. There were many things that we learnt and many interesting things still to explore, therefore it is a huge help for younger players."

Diana Lixăndroiu
Talented handball player, Romania
More to come in 2023
The Summer Tour will not be a fleeting interaction for the talents. The All-Star team players of all YAC events will be invited to a 3-day camp in December 2023. In the camp, the aforementioned off-court topics will be explored in more detail with ambassadors and topical experts.
Also, the Respect Your Talent App will be soon available for the potential stars of the future. Via this App, they will be able to sharpen their off-court skills, for instance through expert learning content, and personal pro tips from the programme Ambassadors.
•
•
•
Photos by © EHF