TWIN has set out to deliver a series of keynotes and workshops in 3 European countries in the following days. The first stage of our autumn tour took us to the Women's Handball Conference in Ljubljana, Slovenia.
A longer history, commercial interests, and, linked, media coverage are main reasons for men's team sports being substantially larger-scaled and more resourceful than the women's side. At the same time, this infrastructural gap between women and men slowly lessens, as the following examples illustrate:
Women's rugby is now one of the fastest growing team sports in the world. In total, more than 2.7 million women and girls play in professional leagues, at the Olympics, at universities and even in grade school. (Mastercard Newsroom, 2021).

Based on TV deals enhancing accessibility, the increase of people in the EU watching women's football is estimated to be 358.7% (The Guardian, 2021).

The European Championships 2018 in women's handball were shown in 135 countries by 65 broadcasters, with a total of 2,749 hours of coverage, a growth of almost 40% on the previous tournament in 2016 (European Handball Federation, 2019).
With this growth in players, event sizes and publicity comes growth in terms of female athlete demands and challenges. Enter: Respect Your Talent, a talent support programme co-created by the EHF & TWIN.
Shared stage
Alongside the European Championships in Slovenia, North Macedonia 2022, it was a joy to share our stage at the EHF Women's Handball Conference 2022 with one of the greatest players of all time, Norwegian Kari Aalvik-Grimsbø. Together with the two-times Olympic champion, TWIN Founder & CEO Wolfgang Stockinger addressed the relevance of talented athlete empowerment in sport generally, and more specifically in women's handball.
"

Many women's sports are on an unprecedented rise. U

pgrading skill development support for female athletes must therefore be given increased attention."​

Wolfgang Stockinger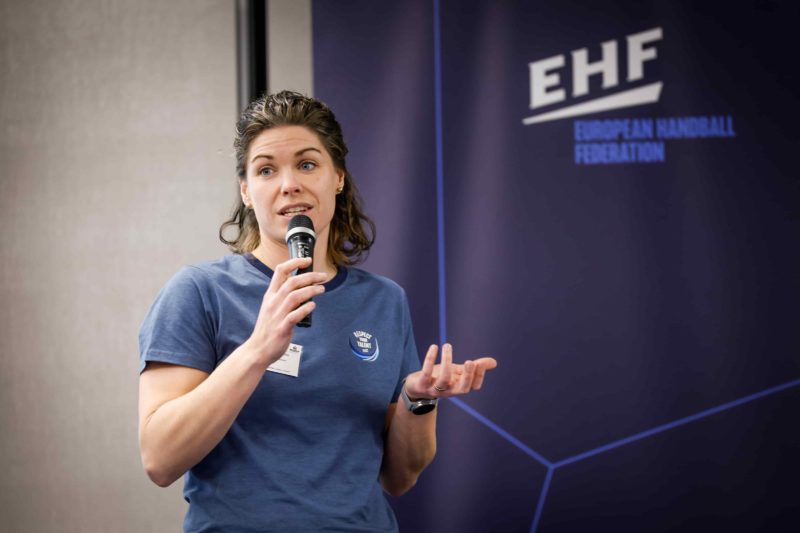 A special focus of the presentation was put on the upcoming Respect Your Talent App, a digital space for self-development for talented handball players. A wide collection of training sessions in the areas of Dual Career, Mental Fitness, Media, Anti-Doping, and Sports Law aims to contribute to young athletes being better able to deal with the current demands they face on talent level, as well as being better prepared for the future demands of professional handball. The launch of the App is anticipated for summer 2023.
Photos by © Jure Erzen / kolektiff