We are delighted to see our work in holistic athlete support being acknowledged by the European Commission. This week, TWIN spoke at the EU Sport Forum 2022 in France on the topic of athlete empowerment. 
The EU Sport Forum is an annual event organised by the European Commission to ensure the continuous dialogue with the European and international sport community. It acts as a central meeting point between sport organisations, representatives of the EU institutions and Member States exchanging views on the current and future sport policies.
European Sport: fair, inclusive and fit for a sustainable future
The 2022 edition of the forum took place from 16-17 June in Lille, France. This year's event was dedicated to the theme "European Sport: fair, inclusive and fit for a sustainable future". Both days covered current priorities in the field of European sport:
inclusiveness, equality, and solidarity as key principles and values of a European sports model
green transition of the sport sector, in particular the promotion of sustainable sports infrastructure
good governance in sport, with a focus on athletes empowerment
protection and promotion of well-being notably of young people through sport
With regards to good governance, the forum session "Empowering athletes" united a selection of leading professionals in the field of athlete support.
Emma Terho, Finland – Chair of the Athletes Commission and Executive Board Member at the International Olympic Committee (IOC)
Natalia Orive Siviter, Spain – President of the Spanish Futsal Players Association, and Vice-President of EU Athletes
Nadia Mossong, Luxembourg – Dual Career Coordinator of the Luxembourg Institute for High Performance in Sports (LIHPS)
Guy Taylor, United Kingdom – National Director of the Talented Athlete Scholarship Scheme (TASS)
Thanks to his long lasting international development work in the areas of dual career and athlete empowerment, TWIN Founder & CEO Wolfgang Stockinger was honoured to complete this high-calibre panel.
"To empower the athlete, we need to empower the athlete environment. The quality of opportunity for athletes in and beyond their athletic career is strongly connected to the quality of programme design, the quality of support services and the quality of stakeholder engagement."​

Wolfgang Stockinger, TWIN
Watch a full recording of the session on the EU Sport Forum 2022 website.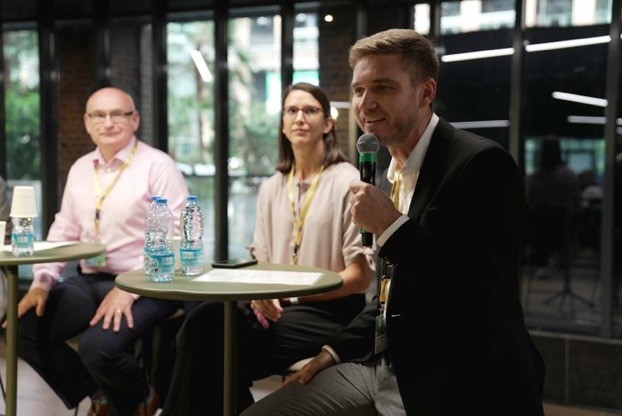 Photo © European Commission
🚩 TWIN is an experienced keynote option for conferences worldwide, dedicated to sport and education topics. If you are interested in having one of our experts speak at your event, please submit a request.